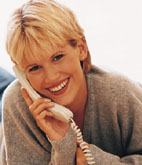 COUNSELING
Emotional and relationship issues can be overwhelming. However, personal problems are as treatable as any other health concern if you know where to turn. Phone counselors help solve personal problems of any size.

Highlights
Counselors work with many issues including:
Depression, anxiety or stress.
Conflicts at work or home.
Reliance on alcohol, drugs, tobacco or food.
Sexual, physical or emotional abuse.
Loss and grief.
Change and transition.
Members receive free unlimited counseling services 24 hours a day, 7 days a week.
Free telephone problem-solving services.
Counselors have a master's degree and at least five years experience.
Counselors follow up and monitor progress until member is satisfied.
When appropriate, members are referred to local licensed counselors.
Services are confidential and will not jeopardize employment.