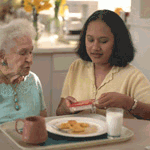 LONG-TERM ELDER CARE
The Long Term Elder Care program aids and supports members with aging parents and family members. Our qualified specialists help members with issues related to caring for an older person. They help you make the right choices for your family.
Highlights
Elder Care Information and Referral Eldercare Specialists are available 24/7 to help with elder care concerns. They can also help answer long-term care questions and find assistance.
Members can save 1% to 35% at 5,500 providers when seeking home health agencies or assisted living facilities.
Access to our website that has skill sheets, condition research, caregiver advice, caregiver tools, resource finder and member reports.
Long Term Elder Care Benefit is not available to residents of Vermont or Washington.