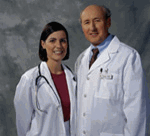 PHYSICIAN VISIT & HOSPITAL REFERRAL
The Physician Visit Network and Hospital Referral Network is one of the largest networks in the nation. Members save 10% to 40% at participating providers nationwide. Plus, the network controls doctor education and service levels.
Highlights
You and your family can save 10% to 40% at participating family doctors, specialists and hospitals in the United States.
Members have access to over 350,000 providers.
All providers are thoroughly screened. They must pass strict criteria and standards before joining the network.
No age or health restrictions. Anyone can receive savings.
Members need not pre-certify or get pre-authorization.
Disclosures
Hospital Discounts NOT available in Maryland and Vermont.
Physician Visit Benefit is not available to Vermont residents.